Mike and Donna Roe Take the win on Kentucky Lake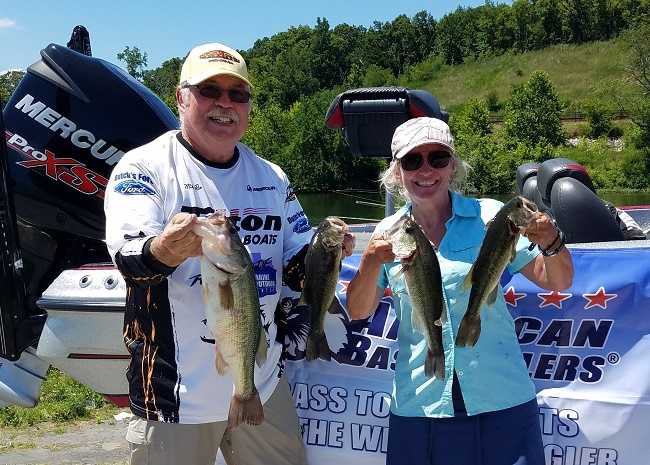 It was a beautiful day on Kentucky Lake, but the fishing was extremely tough. 90 degrees, no breeze and not a cloud in the sky made for some trying conditions. Your humble hosts/directors Mike and Donna Roe, best overcame the tough bite and took 1st place! This was their first win ever as a couple in any trail. They feel blessed to have done this in the ABA Kentucky Lake Division with their close fishing friends. They had 4 fish for a total of 9.14 pounds. The weight was anchored with a nice 4.39 largemouth. Their fish were caught early flipping docks with "Jay Holsapple" jigs before moving to secondary ledges with Carolina rigged Prowler Brush Dawgs from Renegade Marine in the afternoon. We would like to give a shout out to Duckett Fishing for their support of our trail and acknowledge that all our fish were caught on Duckett Rods! The Roe's took home $360 for their efforts on the day.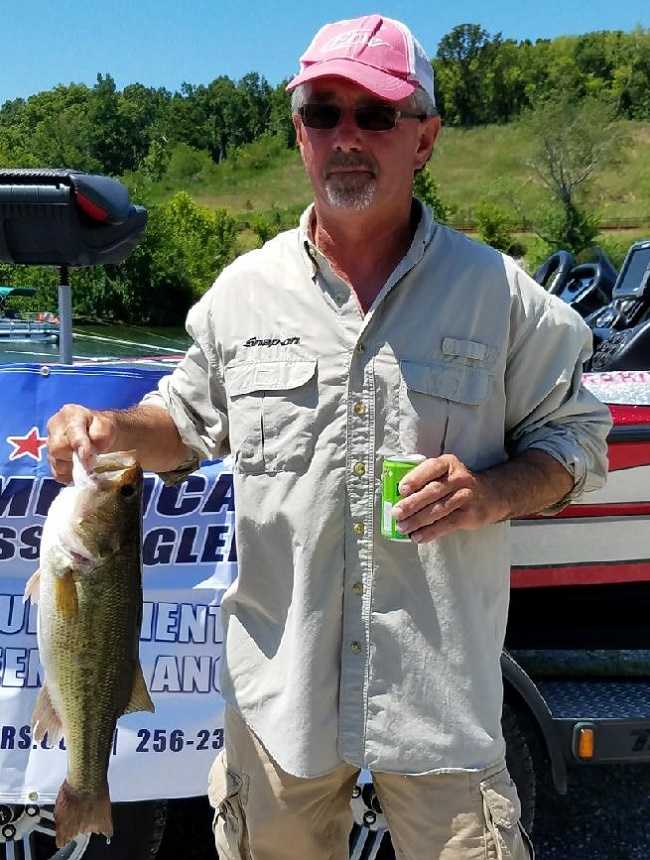 Robert and Cindy Linton were not far behind as they took 2nd place, with 3 fish weighing in at 8.96 pounds. Robert anchored that sack with the Men's Big Bass of the day of 4.79 pounds. They fished jigs and large worms on ledges. The Linton's took home a total of $280 for their day's work. Cindy is camera shy and missed the photo!
Joe and Tracy Zalewski finished 3rd, with 3 fish weighing 7.32 pounds. That bag was anchored by Tracy's 2.84 pound Lady's Big Bass of the day. Thanks to Tracy's efforts they took home $40 for their workday.
Jay and Shari Holsapple took 4th, with 2 fish weighing 6.48 pounds.
5th place went to Eddie and Tammy Barclay with 3 fish weighing 6.00 pounds.
This was our division's 5th tournament and our 5th different winner. We have a very talented, balanced, and competitive group. The Division Championship is exceptionally tight and will be determined at our last tournament of the year, August 13th, at the Big Bear Ramp.
There were drinks and snacks at the weigh-in. Three different teams were the lucky draw winners of non-cash prizes. Renegade Marine of Leitchfield, Kentucky and Duckett Fishing of Guntersville, Alabama have also joined the Kentucky Lake Division 8 Trail by committing to donating some exciting gifts for out final tournament.
SPECIAL NOTICE: Don't miss our last tournament, August 13th at the Big Bear Ramp in Marshall County. We are having a great BBQ dinner at the weigh-in. We are smoking 3-4 butts at the ramp, with some baked beans, cole slaw, and home-made beer cheese. Bring drinks of your choice! We are also giving away over $1,000 in prizes and awarding the Championship Plaque. Everyone is welcome to come enjoy the fishing and the meal. I ask that you try to let me know ahead of time of your attendance so we can better plan the amount of food needed. My phone and email are listed below.
For more information about the Kentucky Lake Division and future events visit www.americanbassangler.com or contact the local director Mike Roe at 859-552-4047 or email mikeroe@roadrunner.com
As stated earlier, our next tournament will be held on Kentucky Lake at the Big Bear ramp on August 13th. We will launch at 6:00 AM and weigh-in at 2:00 PM. Weigh-in followed by the aforementioned BBQ and awards. We will be at the ramp for boat check and late registrations at 5:15 AM.
All ABA American Couples Series events involve a team format with each team composed of one man and one woman. Although many married couples compete together as teams, some teams consist of boyfriend and girlfriend combinations, parent-child combinations or just two friends. Contestants between 12 and 18 years old may participate with a parent's written permission.
The top angling couples from across the nation earn the right to compete in the annual American Bass Anglers Couples Series National Championship tournament.
About American Bass Anglers: American Bass Anglers is committed to providing low cost, close to home tournaments for the weekend angler and at the same time offer each competitor an upward path for individual angler progression. For more information about American Bass Anglers, the Ram Truck Open Series, the American Fishing Tour or the American Couples Series, visit www.americanbassanglers.com.
American Bass Anglers, Inc. is supported by Ram Trucks, Triton Boats, Mercury Outboards, Carlisle Tires, GEICO, Berkley, Abu Garcia, T-H Marine, Livingston Lures, Best Western Hotels, Maui Jim, Power Pole, LiT Coolers, Simms, Garmin, and Divide-It. American Bass Anglers, Inc. can be contacted at (256) 232-0406 or by visiting americanbassanglers.com