Joel and Tracy Zalewski are the 2017 Couples Champions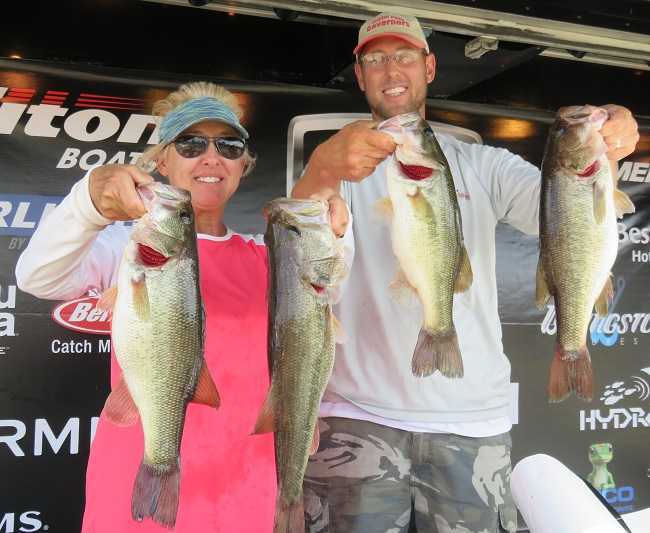 Athens, AL - The final day of the 2017 American Couples Series National Championship hosted by American Bass Anglers, is in the books. Running out of Lakepoint Resort State Park in Eufaula, AL Joe Zalewski-Tracy Harp Zalewski of Nashville, TN took home the grand prize of $4000. The married couple fished in the Kentucky Lake division, they brought in a five-fish limit on Day One that weighed 9.93 pounds which put them in sixth place going into the final day. On day two, they brought in another five-fish limit that weighed 13.77 pounds which gave them an overall total weight of 23.70 pounds. They were able to anchor their win with a 3.12-pound bass for both days.
"The lake was fishing very tough and it was also very inconsistent on both days. We started fishing deep as the days got hotter. We mostly used crankbaits and big worms to catch our fish," stated Joe. "We made a game plan coming into the tournament and stuck to it. We did not see anyone else fishing the tournament doing what we were doing. We really enjoyed fishing even though it was tough," stated Tracy. She also added that her mother was smiling down on them.
Coming in second was the of Sean Capes-Kathy Capes. The married couple fishes in the Georgia division and lead the tournament after day one by catching a five-fish limit that weighed 14.33 pounds. On day two, they were not so lucky and was only able to bring in a four-fish bag that weighed 7.98 pounds. This gave them an overall total of 22.31 pounds. They anchored their bag with a 5.88-pound big bass and took home $800.
"It was tough fishing on both days, we used shallow crankbaits to catch most of our fish. We were able to catch a limit on day 1 and the wind shifted directions on us the second day and we were not able to get the last bite we needed to make a limit. We want to give a shout out to our directors Jeff and Amanda Maddox, they do an excellent job and put on great tournaments," said Sean.
Placing third was Thomas and Melissa Bancroft. The married couple fished in the South Carolina Division and was in second after day one with a five-fish limit that weighed 11.91 pounds. On day two, they brought in another five-fish limit that weighed 9.50 pounds giving them an overall weight 21.41 pounds. They took home a check for $575 for their efforts.
"We used a Zoom floating orange magnum worm to catch some of our fish. We also used a spinner bait and an Ole Monster Tilapia Worm Texas rigging in about 4-16 feet of water. We were fishing creek channels on the Georgia side of the lake," stated Thomas.
The 2017 Couples Angler of The Year team was John and Susan Mills of Leesville, SC. The married couple knew they were in the running for the title and was thrilled to take the honor.
"Two years ago, we lost AOY by one point, we knew we were up in points, but didn't expect to take it so this is a wonderful surprise. We would like to thank our sponsors JC'S Outdoors and Yeti," said John and Susan.
Allan Raines of Marianna, FL had the overall men's big bass of the tournament, with a 5.82 pound largemouth he landed on Day One. He took home $325 for his catch.
"I caught my fish using a black trick worm, fishing in shallow grass right of the channel in the late afternoon," said Raines.
Rhonda Ford of Cave Spring, GA had the overall women's big bass of the tournament with a 4.12 pound largemouth that she brought in on Day one. She took home $325 for her fish.
"I was fishing a frog in shallow primrose grass, when I caught the big one, thanks to my partner Mike for putting us on them," said Ford.
This event has been hosted by the Eufaula-Barbour Chamber of Commerce.
The 2018 ABA American Couples Series Championship will be held on September 16-21, 2018 at Lake Hartwell. The 2018 event is hosted by the Anderson County Convention & Visitors Bureau.
All ABA American Couples Series events involve a team format with each team composed of one man and one woman. Although many married couples compete together as teams, some teams consist of boyfriend and girlfriend combinations, parent-child combinations or just two friends. Contestants between 12 and 18 years old may participate with a parent's written permission.
The top angling couples from across the nation earn the right to compete in the annual American Bass Anglers Couples Series National Championship tournament.
About American Bass Anglers: American Bass Anglers is committed to providing low cost, close to home tournaments for the weekend angler and at the same time offer each competitor an upward path for individual angler progression. For more information about American Bass Anglers, the Ram Truck Open Series, the American Fishing Tour or the American Couples Series, visit www.americanbassanglers.com.
American Bass Anglers, Inc. is supported by Ram Trucks, Triton Boats, Mercury Outboards, Carlisle Tires, GEICO, Berkley, Abu Garcia, T-H Marine, Livingston Lures, Best Western Hotels, Maui Jim, Power Pole, Simms, Garmin, and SiriusXM Marine Weather. American Bass Anglers, Inc. can be contacted at (256) 232-0406 or by visiting americanbassanglers.com